<!************************ END LOGO *************************> <!************************ RIGHT ICONS *************************>
<!************************* Share My Guitar ICON *************************>

<!************************* Twitter ICON *************************>

<!************************* Facebook ICON *************************>

<!************************* Youtube ICON *************************>

<!************************* Shopping Cart ICON *************************>

<!************************ END RIGHT ICONS *************************>
<!************************ MAIN NAVIGATION MENU *************************>
About Us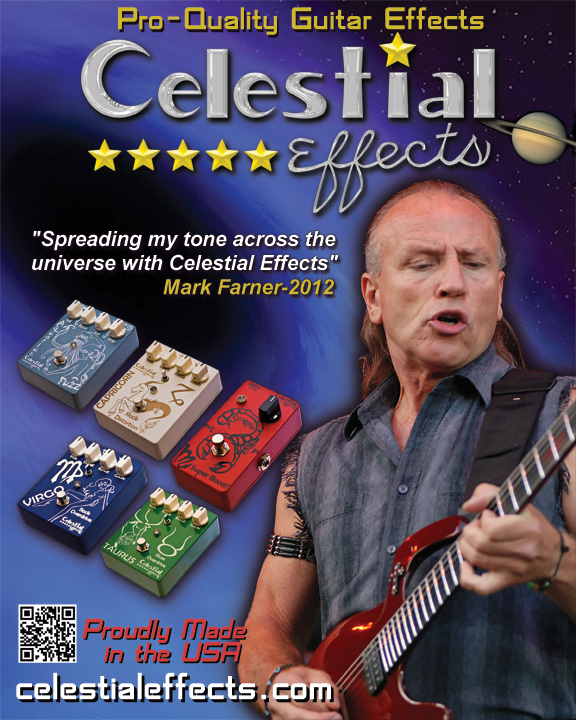 Our Company
Born out of our love for music, we married our expertise in electronic circuit board design, manufacturing knowledge and musical backgrounds to produce rugged, boutique quality guitar effects backed with the ability to produce these units in our facility with repeatable quality and timely deliveries.
Our chief pedal designer, Dom Mancini, has been designing, building, modifying and repairing guitars, pedals and tube amps for over 25 years. His true love is hand built custom tube amps. He also has an insatiable thirst for the perfect tone. This means his tone quest will continue indefinitely, resulting in many new products to be released in the future.
Thermalogic - Our Parent Company
Celestial Effects is a division of Thermalogic Corporation. We are located in Hudson, MA. Thermalogic has been an industry leader in the engineering and manufacturing of high quality, durable, hand-built electronic temperature and process controls and sensors since 1971. Thermalogic designs and manufactures all of our controls to the highest standards, in the USA. As we celebrate our 40th year in the industry in 2011, we embark on a new dimension of Thermalogic with Celestial Effects. View More >>
Our Philosophy
Being self proclaimed guitar gear junkies and collectors, we have come up with what we think is a good rationalization for our never ceasing quest for guitar gear and pedals:
An electric guitarist is an artist, like a painter. The guitar his brush, the amplifier his canvas and everything in between are the paints and colors required to create his sonic masterpiece. The more "colors" artist has at their disposal, the wider the spectrum within which they can experiment.
This is how we at Celestial Effects view the need for more effect pedals. There are a lot of fantastic pedals out in the market to choose from, but we are always looking for more. So, being electronic engineers by trade, we first started to modify existing pedals and then started to design and build our own effects to incorporate into our "sound" for new and exciting tone options.
These experiments yielded some great designs which found permanent homes on our pedal boards. When other guitarists started noticing the tone and found out what we were using, we were asked to build pedals for them as well, and it began to grow.
Working for an electronics manufacturing company, the idea was born that we could begin manufacturing these pedals to share with the overwhelming number of guitarists in the world, giving them more options in their own personal tone quest. Thus, Celestial Effects was born.
Let's just think for a second; what makes great tone? A guitar pedal will not instantly give you great tone. You have to start with the basics, a good base tone. A good guitar/pickup configuration into a good tube amp is the first step. If you have good tone with these two elements, the sky is the limit. In fact, we believe in having many guitar and amp combinations for our ever changing moods.
A Guitar/Amp/Pedal setup may sound killer one day and like crap the next. A lot of factors go into the reason why this is true. Temperature, humidity, your emotional mood at the time your playing and even the amount of wax in your ear canal. This is why variety is so important. Having choices at the time we play keeps us happy and sane.
We know. You've heard that a pedal is "tone transparent" over and over, but it's true to a major extent. An overdrive/boost pedal design should be transparent to your original tone. A boost or overdrive pedal that "takes over" your tone does not generally appeal to us.
When done right, pedals that take over your tone can be killer but most just mask your true tone and the nuances of your playing. Overdrive and boost effect pedals should enhance your tone, not mask it. This is one of our major design criteria.
In other words, what you get without the boost or overdrive should be relatively similar to what you get with them. We do believe in some EQ shaping but only slightly. We don't much care for in-line tone circuits and tone robbing multiple buffers in the pedal chain.
Yes, some pedals are designed to alter your tone, but in a good way. If you use two different guitar/amp combinations with uniquely different tones, then add the same effect pedal to each of the combinations, you should still have two different tones. That's tone transparency. If you add a pedal and get the same tone from the two combinations, that's not transparent and to me, generally a bad design.
The other major design features we strive for are ruggedness and durability, which in turns defines the quality of the pedal. You will find that all Celestial Effects are solidly built. Rugged, durably coated enclosures, the best mil-spec electronic components put together by knowledgeable assemblers from a company that has been doing this for nearly 40 years. If you want a pedal that will last for many years to come, you have come to the right place.
Lastly, but not un-important is "the look". Celestial Effects is blessed with having a resident artist on staff. All the original artwork is designed by local artist Kathleen Donahue and she strives for that "catch your eye" look in the color schemes and graphics.
OK, enough talk, please check out the effects sound and video files and judge for your self. Celestial Effects also offers a 30 day money back guarantee, so how can you go wrong?
Our goal is to never stop looking for the perfect tone!
Return Rules and Restrictions
Items must be returned within 30 days of delivery.
You must include a copy of the original packing slip. Be certain to save copies for your records. If you no longer have the packing slip, follow these steps.
Shipping and handling costs and other additional charges are non-refundable.
We will not accept CODs or third party billing for returned merchandise.
If there is extensive damage to an item upon delivery, call a Customer Care Representative immediately at 1-800-343-4492 x121.
You can expect a refund in the same form of payment originally used for purchase within 10-15 days of our receiving your returned product.
1 Year Warranty
Celestial Effects warrants that the goods sold meet Celestial Effects specifications and are adequately contained, packaged and labeled and conform to the promises and affirmations of fact made on the container and label.
THE FOREGOING WARRANTIES ARE EXCLUSIVE, AND ARE IN LIEU OF ALL OTHER WARRANTIES (WHETHER WRITTEN, ORAL OR IMPLIED) INCLUDING WARRANTY OF MERCHANTABILITY IN OTHER RESPECTS THAN EXPRESSLY SET FORTH ABOVE AND WARRANTY OF FITNESS FOR A PARTICULAR PURPOSE.
In the event that there is a breach of express warranty by the manufacturer made in connection with the purchase of this product, if any, the sole remedy of any buyer shall be to return the product for repair (or replacement of the product if repair is impossible) to the manufacturer's facilities in the Commonwealth of Massachusetts, located at 22 Kane Industrial Drive, Hudson, MA 01749. Some states do not allow the exclusion or limitation of any incidental or consequential damages, so the above limitation may not apply to you. Nothing herein contained shall be construed to be a waiver by the manufacturer of any of the obligations imposed upon said buyer under the laws of the Commonwealth of Massachusetts except as herein specifically stated.
This warranty is enforceable only by the buyer of the product or a person in the buyer's immediate family. This warranty is enforceable for a period of ONE YEAR from the date of purchase. Some states do not allow limitations on how long an implied warranty lasts, so the above warranty may not apply to you. This warranty gives you specific legal rights and you may also have other rights which vary from state to state.
(NOTE: Warranty excludes any 12AX7 tube which is only covered for 30 days)
<! -----------BODY FOOTER SEPERATOR BAR ----------> <! -----------Thermalogic Logo on Right Side ---------->

<! -----------Left Text ---------->
Proudly Manufactured in the USA
<! -----------Middle Text ---------->
Celestial Effects&reg is a new dimension of Thermalogic Corporation&reg
<! -----------END BODY FOOTER SEPERATOR BAR ---------->